Coronavirus – Although all restrictions have been lifted we are still operating a cautious approach and advising patrons to wear a mask in congested areas. We have a new air-circulation system installed and we are keeping audience numbers below our normal capacity. We hope that you enjoy your visit to Ropery Hall and feel safe and secure.
---
Ben Poole – Live at Ropery Hall, 23.10.21 – filmed by Mike Allen
---
The Piano Fund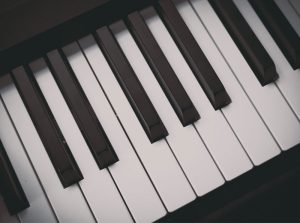 Over the years there have been some fantastic pianists performing here who have presented us with a headache as Ropery Hall does not have a concert piano. On occasions we have pushed the boat out and hired a lovely grand piano from Lincoln Piano Centre, a requirement sometimes for musicians like The Unthanks and Darius Brubeck to perform on the Ropery Hall stage. On other occasions an electric piano has stepped in but it's just not the same.
A Baby Grand has been ruled out because of the cost and storage requirements so our more realistic plan is to raise £3,000 for a good quality pre-loved upright with substantial wheels and a ramp to get it on and off stage as Liz and Richard's days of piano lifting are well behind them.
We are looking for 90 people to sponsor a piano key or a pedal for £35 each (or a chord for £280). With 88 keys and two pedals you'll be able to choose your key (if someone hasn't already beaten you to it). It could be the first note of a favourite song or the highest note you can sing. For whatever the reason it will be your key. One lucky sponsor will be drawn from the hat to receive two free tickets to the first concert using the piano and a song dedicated to them by that evening's pianist.
When Liz announced the piano fundraiser at the recent Snake Davis gig that featured pianist Robin A Smith she was mobbed afterwards and sold 22 keys and one pedal so we are 25% of the way there already!
If you would like to donate please email Liz HERE
---
Watch
Gigspanner Trio – November 27
---
Film Wednesdays
We have a new day for our film screenings and our matinee has moved to 10.30 am!
Doors will open half an hour before at 10am and there will be an interval during the film for tea/coffee as usual. Evening films will start at 7.30 pm as before.
The morning films cost £3 but for an extra £2 you can stay for lunch! (meals must be ordered on arrival). This new initiative, funded by the Ewan Cornish Trust is an attempt to combat social isolation. After eating, people can stay and chat and our social media guru Dan will be on hand to help anyone with internet/tablet/social media related inquiries. So if you always wanted to be on Tik Tok, Dan is your man! As restrictions relax, further afternoon social and craft activities are planned.
---
To purchase a gift voucher please click HERE
---
Pay for your Friend and Patron Membership online! Please click HERE