Chantel McGregor
A female guitar prodigy, at 14 years Chantel was told by major labels that she had a "great voice, but girls don't play guitar like that!" Wisely ignoring the comments, she enrolled at the Leeds College of Music and became the first student in the college's history, to achieve a 100% pass mark, with 18 distinctions. Chantel left with a First Class Honours degree in Popular Music and a coveted prize, the college's Musician of the Year award.
In previous years, Chantel stepped out in the pro-musician world and her stunning live performances demonstrated that she had the ability to perform rock for the new age, played by a musician born with an effortless virtuosity. Since then, she has built a loyal and growing fan base who follow her every move.
If you measure an artist's prospects by the company they keep, then Chantel has been moving in the right direction. Early in her career, Chantel was invited to perform with Joe Bonamassa, on two of his UK tours.
When Chantel released her 2011 debut album, Like No Other, one critic said, "Chantel McGregor deserves to be held up as a messiah of blues-rock and given her own mountain. She doesn't strum or pick her guitar but almost bends and distorts it, as if she's channelling the ghost of Hendrix through her fingers"
The album was produced by Livingstone Brown, whose production credits include Ed Sheeran, Robin Trower, and Shakira. The end result was a beautifully crafted debut album that showcased Chantel's versatility and talent as a singer-songwriter.
Chantel's follow up album, Like Control, again produced by Livingstone Brown, was released in October 2015 to critical acclaim.
All About Rock's review of the album said: "The album in its entirety has a common theme running through of gothic imagery which makes it almost a concept album but each track stands out on its own. Chantel's double tracked vocals are amazingly tight & the production on this album sounds loose which is a compliment to Livingstone Brown & Chantel who have obviously spent a lot of time on the arrangements. The girl can obviously shred but she does so in a very understated & despite the title of the album, a controlled way. Recommended for fans of blues, rock, Jeff Buckley, Marillion, Big & Rich, Country & Nick Drake. This is a hard album to categorize & pigeon hole which in this day & age of labels & boxes is a good thing".
Planetmosh reviewed the album with the following comment: "The album is full of great guitar work, but Chantel McGregor isn't just a guitar player – she does the vocals too and they are equally impressive. She's got a great voice and the variety of songs on the album allows her to demonstrate a range of styles vocally. It really is a great album".
The single, Take The Power, was playlisted for five weeks on Planet Rock radio.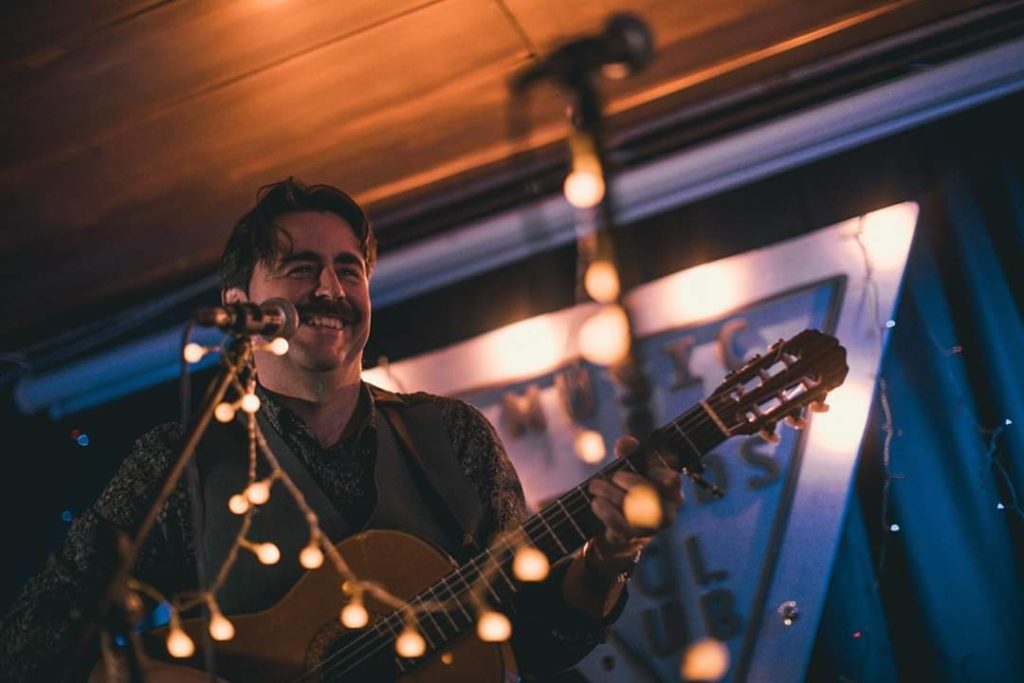 Support: Gabriel Moreno
A London-based Gibraltarian poet, singer-songwriter and musician with more than twenty years experience in the alternative-folk & Americana scene, playing on stages in Barcelona, London, New York, Gibraltar and Naples.
Influenced by the likes of Cohen, Callahan, Cave and other poetical artists, Moreno is known for beguiling, seductive performances and his endless stream of passion.
With four albums with Amber Records and Poetry Mondays Records; "Love & Decadence" (2015) "Farewell Belief" (2019), "Whiskey with Angels" (2020) and "The Year Of The Rat" (2022) as well as multiple EP's.
He performs with a troupe of highly acclaimed musicians from the London and Barcelona Alternative Folk scene which includes Platinum record artist Fiona Bevan, Rough Trade signed musician Adam Beattie and piano maestro Ned Cartwright (Heartworn Highways.)
In 2019 at The Great British Folk Festival, Moreno with his band The Quivering Poets, were voted best act by the audience for their performance on the Introducing Stage. Because of this, the quartet were invited back to play on a main stage at the Festival and in November last year, they did just this and captured the hearts of a packed Centre Stage, with a truly inspirational performance that left the audience wanting more.
That year Moreno was also appointed Cultural Ambassador for his home nation: Gibraltar.
Acclaimed by Cerys Mathews BBC Radio 6 Music and other BBC radio presenters across the country, Moreno is now on the road with The Quivering Poets and presenting his new album, "The Year Of The Rat." which will be launched at The Tower Theatre in Stoke Newington London on 4th February 2022.
Show Details
Date of event:
18th February 2022
Event details:
MUSIC
8pm £16/£18