Rachael McShane & The Cartographers
Rachael McShane is a singer, cellist, fiddle and viola player based in the North East of England. An original member of folk big band Bellowhead, Rachael toured internationally with them as well as making several TV appearances. Bellowhead recorded five studio albums, and won a total of eight BBC Folk Awards in their 12 years together. Rachael has more recently been singing the role of Susannah Holmes in The Transports alongside The Young'uns, Faustus, Nancy Kerr, Greg Russell and Matthew Crampton.
Rachael is now working on a new solo project of traditional songs and is playing with a brand new band The Cartographers, featuring guitarist Matthew Ord (Assembly Lane) and melodeon player Julian Sutton (Kathryn Tickell, Sting).
 "A classy musician and a singer of striking elegance" – Mike Wilson's Music Blog
"You're in the presence of something very special…what a voice"- Sid Smith, BBC Music
Support is provided by Candi's Dog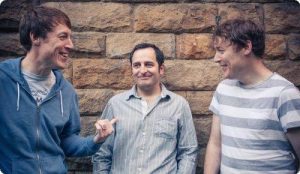 Tyneside trio Candi's Dog are at the very top of their unique Folk­Pop game with crisp, upbeat melodies and warming harmonies generously supplying a comforting air of familiarity whilst simultaneously providing a fresh take on the FolkPop genre. With crystal­clear tones combined with bucket loads of untouchable sincerity, the resulting mash­up is akin to the likes of Bright Eyes and Fleetwood Mac along with the lyrical qualities of Ed Sheeran and Bob Dylan.
Show Details
Date of event:
26th March 2022
Event details:
MUSIC
8pm £14/£16